Application for RTO Vehicle Information
The majority of your RTO, vehicle-related demands may be met by this smartphone application, making it a must-have app.
Details of Vehicle Registration
How can I find out who owns my car? Simply input the VIN to access more than a dozen vehicle registration facts, such as the genuine owner's name, age, the date of registration, the insurance policy's expiration, etc.
Challan Specifics
Simply enter a vehicle's (RC) or license number to access information on challans issued to any vehicle or driver. Challan number, issue date, and payment status are all details.
Profile Control
For rapid access to all the information in case of an emergency, download all of your RC and licenses to your profile. Additionally, you can log in to have all of your devices' searches synced.
Calculate Resale Value
Did you know that a car's value drops by around 20% in the first year? Utilize our brand-new resale value calculator to determine the fair market worth of your used car or bike. It considers a number of factors, like make and mileage, to offer you an accurate price for your automobile.
Fuel Cost
Find out the most recent fuel and diesel prices in all Indian cities. Daily revisions to the price of gasoline and diesel ensure that fuel consumers are informed of even the smallest changes in the price of crude oil.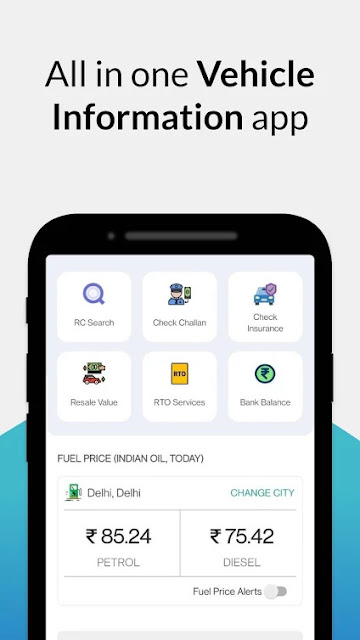 Driver's License Lookup
Get the name, age, validity, status, and many other details of a license holder easily by using their license number.
Specs and Features
current features and specs for over a thousand different models of cars from over 20 different brands, including things like mileage, seating capacity, and transmission type.
Stories and News
Receive the most recent vehicle debuts, advice for reducing the cost of auto or motorcycle insurance, RTO rules, and other news directly into the app.
By utilizing the car number, the app provides the following RTO vehicle registration information details:
– Name of Owner
– Age
— Engine No.
— Chassis No.
– Date of Registration
– City of Registration
– Model
– City
– State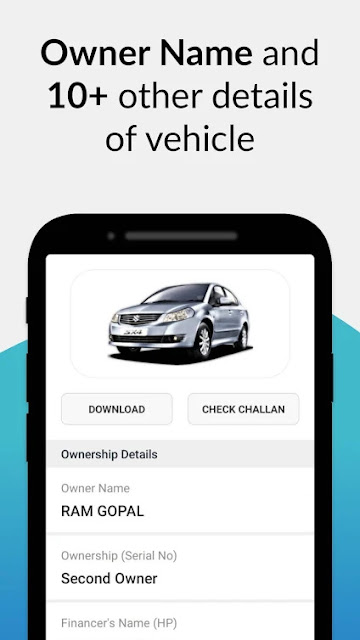 – Obtain RTO vehicle details for the abandoned vehicle that has been sitting next to your fence for several days.
– Recognize the car driven by your favorite celebrity.
– To access previous results fast, use the recent searches tab.
– Use a single link to send friends vehicle information by email, WhatsApp, or Facebook.
– It works with all RTO vehicle kinds, including cars, motorcycles, trucks, and other vehicles.
Disclaimer: We have no connection to any Indian RTO authority. On the Parivahan website, all information on vehicle owners presented in the app is accessible to the general public. We are merely serving as a platform for users to readily access this information via the app.
How to verify vehicle insurance information
1) Download an app for a phone
2) Type the Vehicle Number in
3) Click the "Important Dates" tab by scrolling down.
4) Following that, you may see Insurance Details.
How to Examine the Fine Details
1) Download an app for a phone
2) Type the Vehicle Number in
3) Select the "Check Chellan" tab by scrolling down.
4) At that point, you can see every Fine Detail.
How to check the details on a pollution certificate
1) Download an app for a phone
2) Type the Vehicle Number in
3) Click the "Important Dates" tab by scrolling down.
4) The Pollution Certificate Details are then displayed.
DOWNLOAD (ANDROID) : CLICK HERE
DOWNLOAD (iPHONE) : CLICK HERE