National Consumer Help Line (NCH)
Who is Consumer?
A Consumer is a person who purchases a product or avails a service for a consideration, either for his personal use or to earn his livelihood by means of self employment. The consideration may be:
Paid
Promised
Partly paid and partly promised .
It also includes a beneficiary of such goods/services when such use is made with the approval of such person.
What is National Consumer Help Line?
This website has been launched by the Department of Consumer Affairs to create awareness,advise and redress consumer grievances and act as a central registry for lodging consumer grievances. Though all efforts will be made to address these grievances, all grievances may not be fully or satisfactorily resolved.
The Department of Consumer Affairs has launched this portal as an integrated Grievance Redress Mechanism (INGRAM) for bringing all Stakeholders such as Consumers, Central and State Government Agencies, Private Companies, Regulators, Ombudsmen and call centres etc. onto a single platform. The portal will also help in creating awareness among consumers to protect their rights and inform them of their responsibilities. Consumers can register online their grievances through this portal.
What kind of grievances can be registered?
Grievances related to Consumer Issues can be registered.
How one registers his / her Grievance?
Any aggrieved consumer can register his / her grievance by either calling the toll free number 1800-11-4000 or 14404 and talk to an agent or register himself once in the portal, get an user id and password and lodge his grievance himself attaching necessary documents, if any.
Step 1. A one time registration is required for lodging a Grievance. For registration go to the web portal and click on the login link and then sing up giving details required, verify through your email. The User id and password are created.
Step2. Using this user id and password, enter into the portal and fill in require details of Grievance attaching necessary documents (if available).
What are the other features available in this portal?
This portal has many consumer awareness material under links Consumer Rights, Consumer Fora, Consumer Protection Act. Links to various other useful sites are also available under Important Links
What happens to the grievance?
Any grievance received either through online registration or call center is entered in the portal and a unique docket number is generated and given.
Grievances received are sent to the concerned company / agency / regulator / ombudsman, as the case maybe, for speedy redress. Action taken is updated on real time basis by the concerned agency.
As a follow up action, these agencies are reminded at stipulated interval.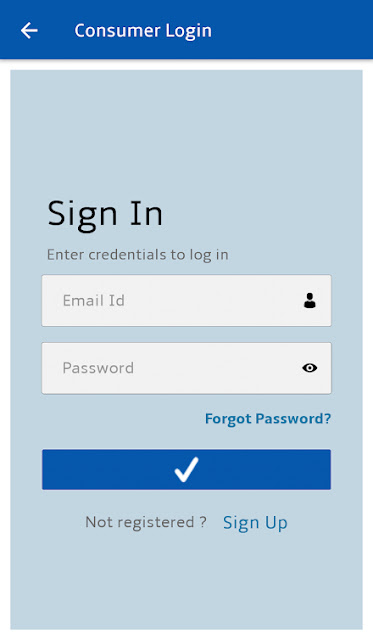 How do I track the status of my Grievance?
The status of the Grievance can be tracked from the portal under the link a Track your Grievance without loging into the portal.
What Action do I expect on my grievance ?
Every grievance will be registered and a Unique Grievance ID is issued. The Grievance will be forwarded to the concerned company/ regulator / authority for action. Action taken by them is updated against each grievance.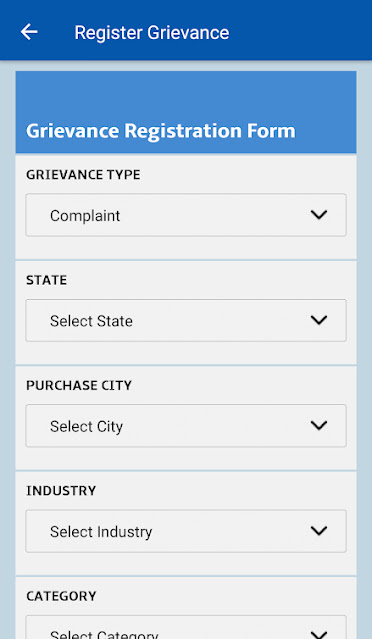 Does registering a grievance in the portal guarantee remedy?
All efforts will be made to get the grievance redressed by taking up with the authorities concerned. However, if the grievance could not be redressed to the full satisfaction, a consumer has choice to approach the appropriate consumer court.
What is the time limit for the redress process?
Each and every grievance received through the portal will be taken up with the concerned company / agency etc. for speedy disposal. It may take up to a maximum of 45 days to arrive at a logical conclusion.
egister your grievance through NCH APP: 
DOWNLOAD NOW : CLICK HERE
OR
Register your grievance through Consumer App: 
DOWNLOAD NOW : CLICK HERE
OR
Register your grievance through UMANG APP: 
DOWNLOAD NOW : CLICK HERE
OR
REGISTER ONLINE: CLICK HERE
OR
You can call to register your grievance 1800-11-4000 or 14404
Timing: All Days Except National Holidays (09:30 AM To 05:30 PM)
OR
SMS on this Number 8130009809. We will get back to you.