HIRING FOR AL SAFI DANONE Co, KSA Join Now, Apply Now
Bicha travels is just like a BICHA TRAVELS & HR CONSULTANTS. Bicha Travels, leading tours & travel company in Malabar with its registered office at Calicut. We offer a broad range of services which includes Domestic and international holidays, Air ticketing, Corporate travels, Visa and passport services, Umrah services and Travel insurance.
Bicha Travels is a sister in concern of Bicha Group established in 1989 and having business establishments in various sectors. We are a team of highly dedicated, knowledgeable and focused travel consultants, who ensure the highest levels of customer satisfaction. Leveraging upon the years of experience in the travel domain we offer best travel solutions.
| | |
| --- | --- |
| travels Name | BICHA TRAVELS |
|  Location | CALICUT |
|  Nationality | INDIA |
|  Last Updated on | 01th July 2022 |
Let's move forward to discuss what is Walk in Interview in Dubai and why the majority of job seekers are considering it as useful nowadays. The first question comes to those minds who don't know its importance. No doubt, Dubai is still a land of opportunities for job seekers where finding a job almost becomes a dream of many people, but struggling in the right path can land you on the table of interviewers. Interested individuals can learn more about how to prepare for a walk in interview.
What is a Walk in Interview?
Undoubtedly, a walk-in interview strategy used to conduct face to face interviews and screening candidates by checking the ability, core skills, academic qualification and the great numbers of proven experience in the same capacity an interviewee gained. Once the interviews are done, the recruitment team shortlists them for a second interview by scanning their resume and cover letter (including all related documents) once again. In case, a candidate qualifies for a second interview. In the end, they select the most deserving one. To know how to make a perfect CV.
Why Does Walk in Interview Conduct by Employers?
When a company needs to hire a deserving person on the immediate basis without investing so much time to gather a large number of Resume/CVs online they conduct walk-in interviews by updating Interview Date, Interview Timing, Interview Location (with the help of Google Map link), Whatsapp/Contact Number and in some rare cases the email address also.
Walk in Interviews Ads Can be Found Outside the Door as Well
Based on my personal experience some organizations still announce walk-in interviews outside their door across the UAE for Freshers and Experienced professionals. And I just personally have seen their job ads outside the Offices, Shopping Malls, Barber Shops, Supermarkets, Hotels, Restaurants, Banks, Hospitals etc. Even some of you would have seen the ad outside the door as well. Therefore, below one can find a walk-in interview for freshers job ads several times.
….
…
Let's Explore Dubai Walkin Interviews This Week
Here we will be exploring walk-in interview in business bay Dubai, Abu Dhabi, Sharjah, Ajman, Ras Al Khaimah and Al Ain for our beloved visitors or readers. Below job seekers can find the list of up-to-date vacancies which will be conducted this week and throughout the month. So please stay tuned on  for daily walk in interview alerts. Best wishes and stay blessed everyone! 🙂
📣📣FREE RECRUITMENT📣📣
HIRING FOR AL SAFI DANONE Co, KSA🇸🇦
🔖 VAN SALES MAN- 50 No.s
💰 Salary: 2000 SR (1600+400)+COMM+ ACC
🔰 INDIAN HEAVY + FMCG SALES EXPERIENCE OR KSA LMV ( FMCG SALES) + INDIAN HEAVY CAN ALSO APPLY
🔖 ALL SHOULD HAVE FMCG VAN SALES EXPERIENCE
🔖 AGE : 23 – 35
🔖 SHOULD HAVE BASIC ENGLISH KNOWLEDGE
🔖 ECR/ECNR
📍 INTERVIEW ON 3 JULY 2022 (SUNDAY)
📮BICHA TRAVELS & HR CONSULTANTS®️
(Approved by Govt of India , Ministry of Ext Affairs)
2nd Floor, PK Complex, Cherooty Road, Calicut, Kerala
📞9567862642
📞9847002642
📞8589002642
🪀http://wa.me/+918078880074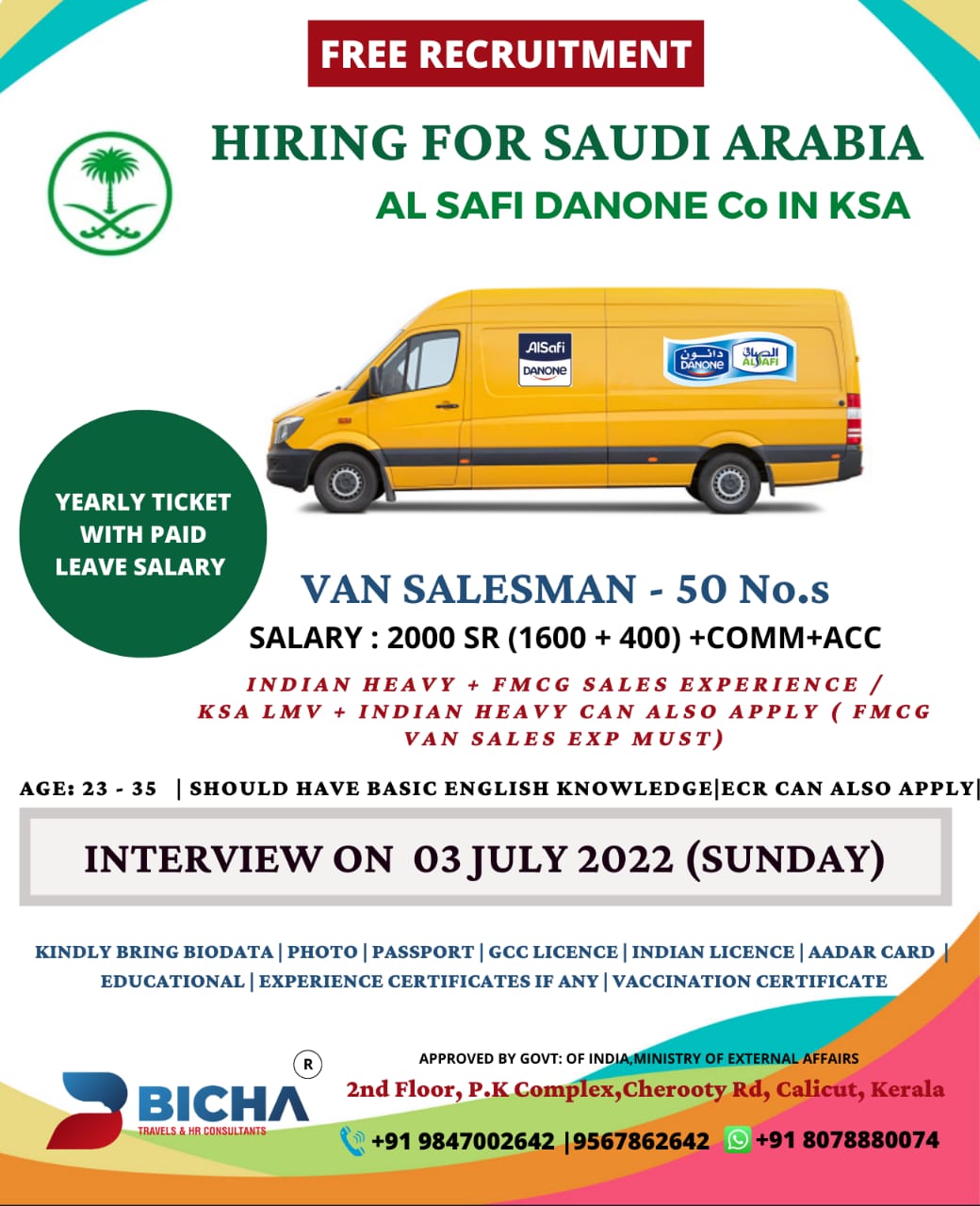 …..
…..
Frequently Asked Questions  (FAQs)
How to apply for a walk-in interview job?
If you are presently inside the United Arab Emirates. You can attend the following job interviews as per the given time frame and do your best to nail them. You can find Interview Dates, Interview Timings, Interview Locations, Email Addresses, and as well as Contacts.
From which city can I apply?
No matter in which city you are currently in. What matters is you must be inside the United Arab Emirates in case you are attending walk-in interviews. You can apply from these cities e.g, Dubai, Abu Dhabi, Sharjah, Ajman, Ras Al Khaimah, Al Ain, and Fujairah.
I am a 10th-grade pass. Can I apply for the job?
Yes! You can apply for certain jobs. The rest of the vacancies need to be filled with High School, Graduation, and Relevant Diplomas. So please check your eligibility which can be found in the ad above.
I am from outside the U.A.E. May I eligible to apply?
Unfortunately. You aren't.
What documents do I need to carry?
A copy of your CV/Resume.
2 Passport Size Photographs (with white background).
Educational Certificates.
A copy of your Passport.
A copy of your Visa.
Driving License (as per the availability of jobs).
Experience Letter (if available).
How many vacancies are available for walk-in interviews at the moment?
There are 65+ vacancies available to apply for.